Your Daily Reading:
Seven of Cups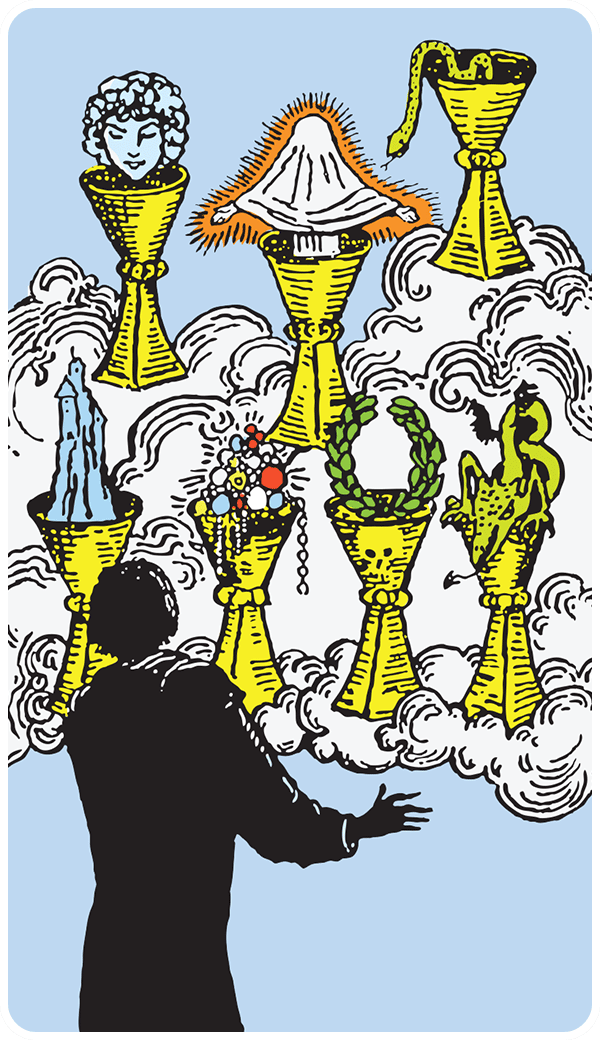 Another option exists for this card – that none of the cups belong to the man. He might simply be staring at them, wistfully wishing he could partake in their pleasures. The grass is always greener on the other side – sometimes we spend so much of our lives wishing we were different that we forget to... well, live our real lives.
Sometime Deciding Not to Choose Can Be The Best Choice
This card could mean that you have gotten caught up wishing for what you could have, rather than enjoying what you do. You might also simply be assessing your potential options, trying to pick goals for your life. There are positive and negative aspects to each of these elements.
When you see the Seven of Cups, ask yourself these questions. How do you deal with choices? Do you get lost in potential rather than see what is here in front of you? Do you indulge, or over-indulge? Can you balance your future goals with your current existence?
The Seven of Cups has, as previously mentioned, a negative side... and that negative side has a lot in common with the Devil card. The over-indulgence of the Seven is in presumption, staking claims that aren't yours to stake, and more – the Devil refers to all forms of over-indulgence, but especially those that harm others or yourself in a deep, potentially physical way. The Seven of Cups and the Devil fit well together in a reading: if you see them paired, you know that over-indulgence is a problem present in your life.
What Seven of Cups Means for You Today
When the Seven of Cups shows up in your reading it usually means that you are in a position where you feel like you need to make a choice but you don't have enough information to know if you are making the right decision. It may be best to wait a while and see what new information comes to light. If you have to make a choice right away and don't have time to wait, your only option is to just pick something and hope for the best. If there are many options in front of you and you have no idea how things might turn out, waiting is almost always the best option.